Shoot Movies and Stills with Your SMARTPHONE
Make short videos and eye-popping stills with your smartphone!
Free Digital Art Workshop
November 15, 2012 6 - 8pm
Digital Arts Lab, 218 Mullen Library
Kathryn Pasternak and Matthew Barrick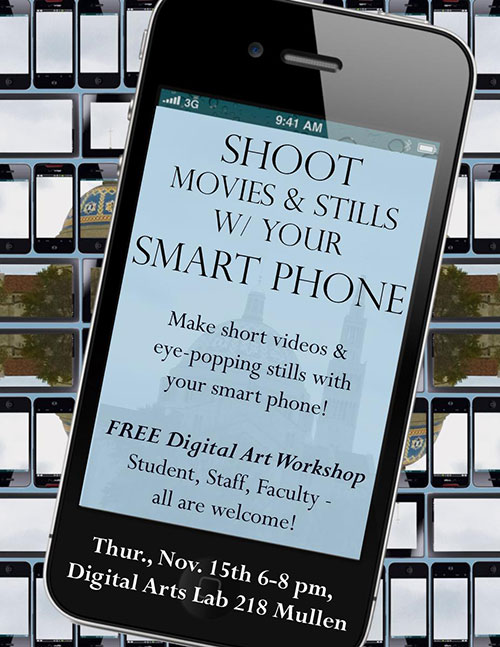 To Believe – The Spirited Art of Corita
What: Exhibit: To Believe – The Spirited Art of Corita
When: October 26 to December 16, 2012
Opening Reception, October 26, 5:30 to 7:30 p.m.
Where: The Catholic University of America
John K. Mullen of Denver Library's May Gallery
620 Michigan Ave., N.E.
Washington, D.C, 20004
Contact Information: The Catholic University of America's Department of Art, 202-319-5282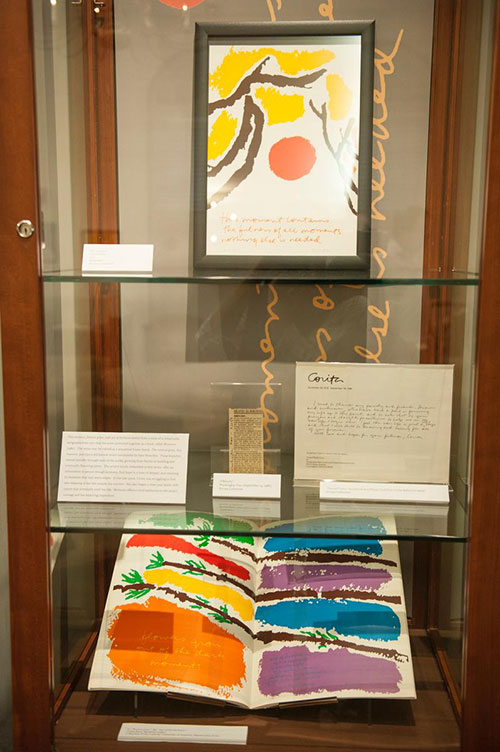 Details: To Believe - The Spirited Art of Corita celebrates the inspired and multifaceted career of modern artist Sister Mary Corita (Corita Kent, 1918-1986), most popularly known simply as Corita, the name by which she signed her later works and letters. This exhibition features a selection of works from the artist's family and from The John K. Mullen of Denver Memorial Library of The Catholic University of America, including prints, illustrated books, film footage, periodicals, newspaper clippings, personal letters, and other artifacts and memorabilia from the private archives of Corita's relatives. These works highlight some of the artist's most remarkable achievements, including her famous Love stamp issued by USPS in 1985; a reproduction of her most widely-viewed work, Rainbow Swatch in Dorchester Massachusetts; and an original handout from one of her earliest and most famous happenings, for Mary's Day in 1964.
Corita's highly original approach to life and art both reflected and enabled change in a time of rapid transformation in modern art, Western society, and the Roman Catholic Church. In the late 1950s and '60's, when Corita was first catapulted to fame, these changes included the rise of the Civil Rights movement, the Equal Rights movement, anti-war protests, and the religious reforms following Vatican II -- all causes that profoundly engaged Corita as an artist, a Catholic nun, and a committed crusader for social justice.
Stylistically, her work helped to transform both religious imagery, and the Pop Art movement. To Pop Art, she brought a new social and spiritual engagement.  As can be seen in my people (1965), Corita juxtaposes a contemporary newspaper clipping with text that relates Jesus' suffering on the cross to the modern suffering in the world. To religious iconography, she introduced an avant-garde sensibility, using primary and neon colors, boldly mixed graphics, and imagery derived from the commercialized everyday world to convey ideas in a powerfully direct and immediately relevant manner.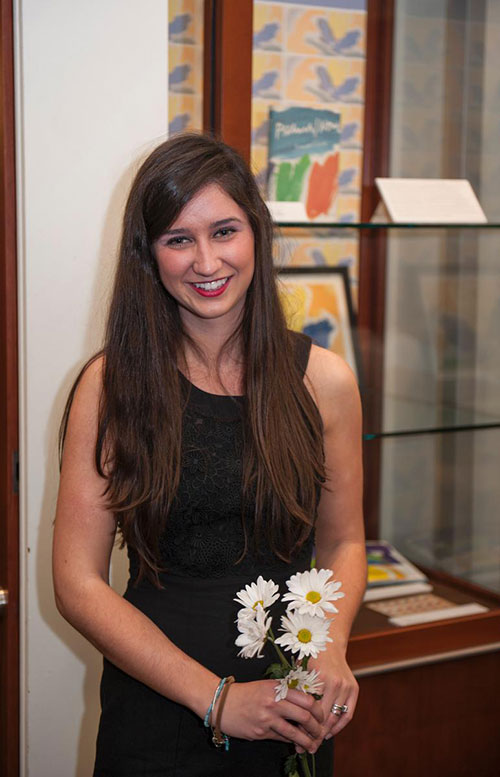 To Believe -The Spirited Art of Corita is offered at a significant moment on the fiftieth anniversary of the Second Vatican Council. This exhibition works in synergy with the conferences on Vatican II held at The Catholic University of America and at Georgetown University this fall, and with the exhibition Celebrating Vatican II - A Spirited Response in Art and Design, currently on display in the Salve Regina Gallery at CUA. It is fitting that CUA should honor the life and legacy of Corita since her visits to this campus in the 1950's made a profound impression on the students who met her. Corita's enduring inspiration can still be seen in the vibrant spiritual art of Willy and Pat Malarcher (CUA MFA 1958), Frances Hart (CUA MFA 1957) and Nell Booker Sonnemann (CUA MFA 1959) now on display in Celebrating Vatican II.
Like any true original, Corita's legacy cannot be measured in just one area. This multimedia exhibit illustrates the evolution of her style over three decades, and charts the artist's original, transformative approaches to religious imagery, pop art, and social activism.
Sponsored by: Dr. Lawrence Poos, Dean of Arts and Sciences; Department of Art, The Catholic University of America, John K Mullen of Denver Library; and a special thanks to the Corita Art Center for assistance in research & development.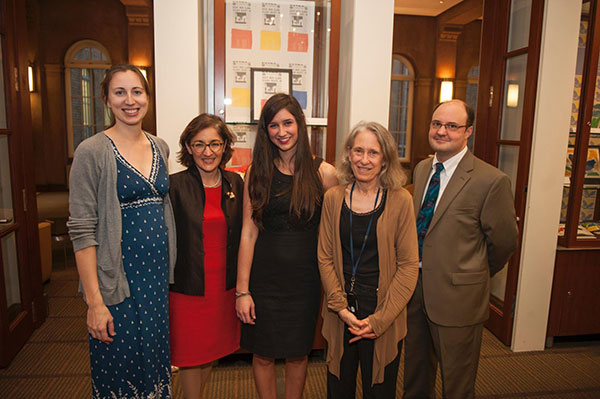 Faculty Spotlight - KATHRYN PASTERNAK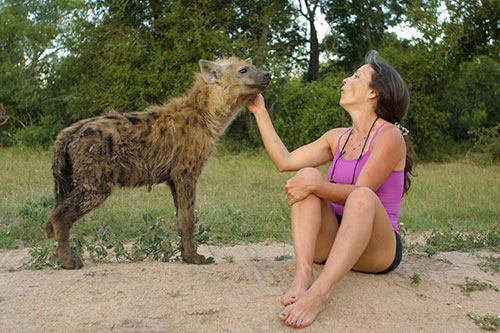 KATHRYN PASTERNAK learned the art of filmmaking for television at National Geographic while on staff there for some 15 years. Among many other honors, Pasternak has received two National Emmy Awards and two other Emmy nominations. While working at NGT, her special focus was wildlife filmmaking, a highly popular, evergreen genre of television that requires both specialized production skills and a keen knowledge of the biological sciences and production ethics. Leaving Nat Geo in 2007 to pursue her own productions, Pasternak still executive produces, writes and produces programs for major broadcasters including National Geographic, Animal Planet, WNET/Nature, and Smithsonian Networks. In 2010, Pasternak launched her own production company, Pasternak Media LLC, which focuses on development and production of wildlife and conservation projects for various forms of distribution. She is currently in post-production of her first feature documentary, DOEVILLE, which is the story of the last deer farmer in Virginia. Pasternak also operates "Sage Media" which is a subsidiary that produces videos for uses other than television. Prior to working at National Geographic, Pasternak was a freelance filmmaker in NYC and Los Angeles, working in facets of the film business as diverse as Hollywood talent agencies, independent documentaries, low budget features and television commercials. Pasternak graduated from Harvard University in 1985 with a degree in Fine Arts.
Pasternak Media
Doe Ville the Movie
Celebrating Vatican II
A Spirited Response in Art & Design
Curator: WILLY (Malarcher), M.F.A., CUA 1958
September 27, 2012 – October 29, 2012
Opening Reception: September 27, 2012, 6 – 8 p.m.
Salve Regina Gallery, Salve Regina Hall
Assisted by Emma Marty, Art History major, CUA class of 2013 and Dr. Nora Heimann, Chair of the Art Department, CUA
Celebrating Vatican II – A Spirited Response in Art and Design was made possible with the generous support of Dean Poos from the School of Arts and Sciences. and with the theological council of Father Witczak, Associate Professor of Liturgical Studies and Sacramental Theology, School of Theology and Religious Studies.  
Celebrating Vatican II – A Spirited Response in Art and Design offers a lively investigation of new forms of artistic expression crafted in the mid-20th century to amplify Christ's eternal message in the modern world. It celebrates artists' and designers' creative struggle to support and enhance the Roman Catholic Church's initiative for renewal in an age of change.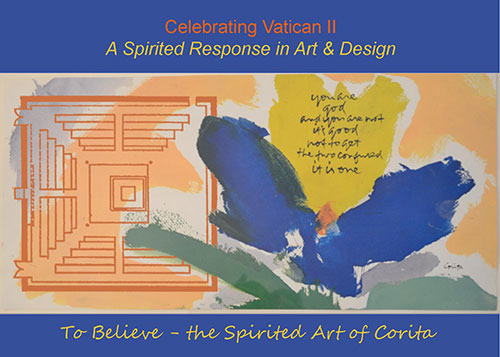 Screen Printing Workshop
Come learn how to print your own CUA Homecoming t-shirt! Have Cardinal Pride with an Artsy flare. The Department of Art will be hosting a screen printing workshop to work in synergy with homecoming and the upcoming exhibition opening of To Believe – The Spirited Art of Corita on Friday, October 26, 2012 (located in the May Gallery in the John K. Mullen of Denver Memorial Library.) This exhibition features artist Corita Kent, who is best known for her 1960's screen prints. Corita loved this artistic medium for its Christian principles, stating herself that, "I'm a printmaker… a very democratic form, since it enables me to produce a quantity of original art for those who cannot afford to purchase high-priced art… the distribution of these prints to everyday places of work pleases me, and I hope they will give people a lift… more fun out of life."

This event will take place on Wednesday, October 24 in the Pryz cafeteria from 11:30 to 1:00 pm. In the spirit of celebrating the joyful art and career of the remarkable Corita Kent, we invite all students to make their own spirited CUA homecoming tee-shirt in preparation for the big game on Saturday. Please join the Department of Art for an afternoon of creativity, fun and Catholic University pride.
Flocking
Artist: Rachel Kerwin
Curator: Allison H. Lipari
July 20 - August 20, 2012
Opening Reception: July 20, 2012 6 - 8 pm
Salve Regina Art Gallery

Images: Charcoal Drawing, Spring 2012
Flocking Wall Mural Time-Lapse Video

About me:
Rachel Kerwin's artwork seeks to complicate the idea that nature is merely a scenic backdrop for our lives. "Nature is also dangerous, chaotic, and destructive. I find that fascinating - when beauty can arise from survival." By exploring this tension, Rachel's depictions of flocks of birds and billowing smoke reflect the duality of chaos and grace she finds inherent in being human.

In Flocking, Rachel will be exhibiting a series of drawings at the Salve Regina Fine Art Gallery that use flocks of birds to create a visual language of movement, transformation, and interconnectedness. You can see more of her work at rachelkerwin.com.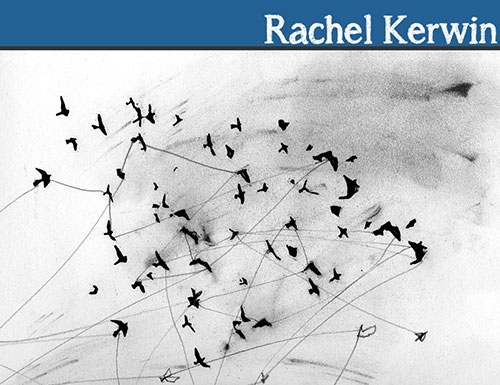 it's all in the details...
Victoria Nicholson and Katherine Seeburger
April 27, 2012 – May 30, 2012
Opening Reception: April 27, 2012 5-7 pm

Salve Regina Art Gallery
The Catholic University of America
620 Michigan Avenue, N.E.
Washington, D.C. 20064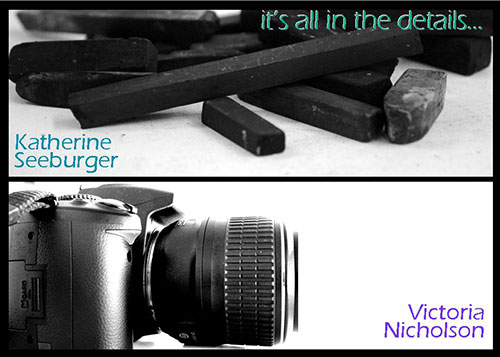 About Time
March 15 – April 14
Mon – Sat, 11am - 5pm
Opening reception: Thursday, March 15, 6 - 8 pm
Gallery Closed April 5 - 9 for the Easter Holiday
About Time

March 15 – April 14

Mon – Sat, 11am - 5pm

Opening reception: Thursday, March 15, 6 - 8pm

Gallery Closed April 5 - 9 for the Easter Holiday
Each of the artists in About Time has sparked a process of change. That process then unfolds over time. JJ McCracken's clay is infused with bread to encourage the growth of mold; Jennifer Coster's antfarms are laced with glitter; Dan Gioia engineers self-referencing machines; and E.H. Sorrels-Adewale collages digital imagery. Each beginning manipulation leads to change that is carried out by the materials themselves.  

J.J. McCracken's Consulting Artifacts (Mold Series) is a living sculpture, creating cycles of growth and decay to explore the passage of time.  J.J's work consists of unfired clay vessels, modeled on ancient forms, and contained in bell jars. Bread is embedded within the clay and eventually grows mold over the surface of the form. Over time, the mold will make the original shape unrecognizable.
The handmade ant farms of Jennifer Coster's Cityscapes are time-based experiments within 2D frames. Their changes over time, according to the artist, "show processes and cycles we are losing the patience to see". In this series, Jennifer places different colored sand and glitter on the bottom of the live ant habitats. Over time, the ants transport the sand and glitter throughout the frame, creating a multi-colored ant cityscape that becomes diagrammatic of the ants circulation.
Dan Gioia creates motorized steel sculptures that humorously explore our identification and frustration with the mechanical world. His Cleaning Machine is a sculpture whose only function is to clean itself. Similarly, the Crawling Machine's sole purpose is to crawl, dragging itself across the floor, until the length of its electrical cord stops it. It's trapped within limitations, mirroring our own human limitations.
E.H. Sorrells-Adewale's Thou Art is a video collage that focuses on the journey of thought, influenced by the "pace of dreams". The idea of a layered video was a natural extension of Sorrells-Adewale's ongoing collage work and engagement with a variety of materials. With this digital collage, he couples a modern view of Plato's allegory of the cave alongside childhood advice given to him by his mother. Her advice, to "always draw freehand", has been essential to his process of "finding one's own light".
Jennifer Coster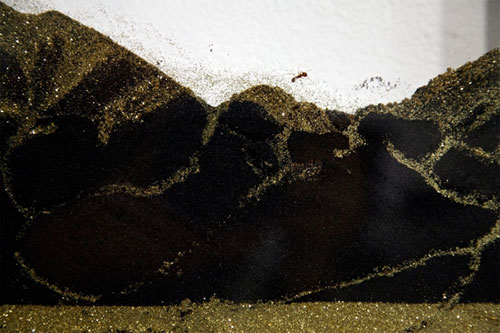 Artwork as experimentation is what most fascinates Baltimore-based artist, Jennifer Coster. In her series, Cityscape, Coster places different colored sand and glitter within ant habitats. Over time the ants transport the sand and glitter throughout the habitats, creating multi-colored hills that appear to be brightly-colored landscapes. Coster has previously experimented with altering the growth of apples and following the night-time flight patterns of bugs with a strobe light. She sees her work as an allegory of human society: "We are living in an experiment without even realizing it. I want people to be aware of the question, instead of looking for the answer."
Jennifer Coster received a B.A. in History at the University of Southern California, and is currently a candidate for the MFA degree from the Rinehart School of Sculpture at the Maryland Institute College of Art, in Baltimore. Selected exhibitions include First Year Show, Pinkard Gallery, and Little Decisions Big Outcome at Gallery 500, both in Baltimore, and Insectology at Goucher College, Towson, MD. Residencies have included Ox-Bow Summer Artist Residency, Saugatuck MI, Grandview Residency, Hollandale, WI, and a Printmaking Fellowship at Pyramid Atlantic, Silver Spring, MD.
Dan Gioia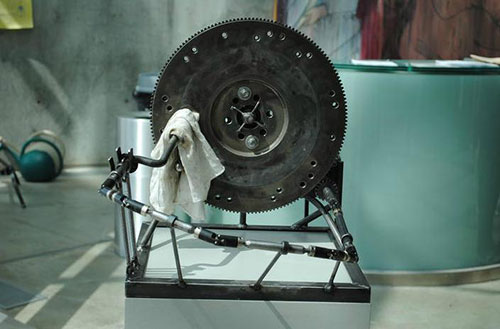 Dan Gioia's kinetic steel sculptures perform as self-referential machines. The sole purpose of Cleaning Machine is to continually clean itself. Crawling Machine was built to pull itself across the floor. Through his work Gioia explores our symbiotic relationship with machines, and the humor and futility of many of our own human activities. In a previous work, Breathing Machine, the artist explored machinery that mimics the animal function of breathing. Another earlier piece, Chopping Machine, is built in such a way that its inevitable self-mutilation and ultimate destruction are apparent from the outset.
Gioia received a BFA in sculpture from the Maryland Institute College of Art in Baltimore in 2011. His work has been exhibited in the PULSE Contemporary Art Fair, Miami, FL, and in Connor Contemporary Gallery's Academy exhibit. He received the PULSE Presents Award in 2011, and the Interdisciplinary Sculpture Departmental Award and the MICA Achievement Award, in 2010. He currently lives in New York.
JJ McCracken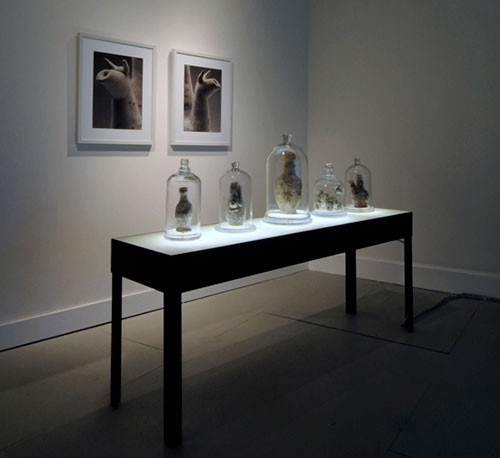 With a series of vessels, modeled after ancient artifacts from around the world, JJ McCracken makes her unfired clay works into studies of time, decay, and stewardship. With the addition of Wonderbread to the clay, the vessels become hosts to mold, the growth of which ebbs and flows over time. Through this process, McCracken links the "certain fragility that living creatures have", with the passage of time. "I want to capture a feeling of being at once infinitely large and infinitely small. This reference to size may be about physical or social size, but can also include my position in time."
McCracken's medium is performative installation. She holds the MFA degree in Studio Arts from the George Washington University, and is currently Artist-in-Residence at Red Dirt Studio in Mt. Rainier, MD. Her performance pieces, focused on global food and water issues, have been exhibited in solo and group exhibitions around the country, most recently in Washington, D.C. at the (e)merge Art Fair. Earth to Table, an exploration of the role of processed and farmed foods in the lives of urban children, is an ongoing collaborative project with Hope Farm at Stenton Family Homeless Shelter in Philadelphia.
We invite you to contribute to the Earth to Table project here: http://www.jjmccracken.com/fundraiser-earth-to-table 
E.H. Sorrells-Adewale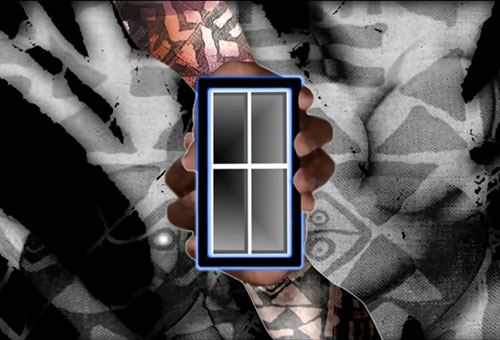 E.H. Sorrells-Adewale's piece, Thou Art, is a video mural suggesting a journey, "…hence the 'to be continued' designation". Thou Art is an overlaying series of images, amorphous forms, colors, and words, reflecting the interconnectedness of antiquity and modernity. Plato's Allegory of the Cave, and the Delphic aphorism, "Know Thyself", as well as the artist's mother's admonition to "always draw freehand", are all inspirations for this piece. Sorrells-Adewale's work has long embraced mixed media and installation. His digital work is an extension of that thinking.
A recipient of a Maryland State Arts Council Individual Artist Award in Visual Arts in 2000, Sorrells-Adewale has also completed Public Art Commissions for the Joseph P. Addabbo Federal Building, Jamaica, N.Y.; NASA, Washington, DC; Arundel Mills, Hanover, MD and Garrison Middle School, Baltimore, MD. Residencies have included The Vermont Studio School, Johnson, VT; The Virginia Center for the Creative Arts, Sweet Briar, VA; The Howard County Arts Council, Ellicott City, MD; Pyramid Atlantic, Riverdale, MD and the Brandywine Workshop Center for the Visual Arts, Philadelphia, PA. Over the years, Sorrells-Adewale has traveled to West Africa, Brazil, China, and to Italy where he co-presented workshops at the Academies of Fine Arts in Genoa and Palermo. In February of 1999, Towson University honored him with The 1999 Distinguished Black Marylanders Award in the Arts.

WAMU ART BEAT
(March 15-April 14) About Time
Not every week presents a chance to travel through time and space... Read more


Still Young at 600: Joan of Arc Across the Millennium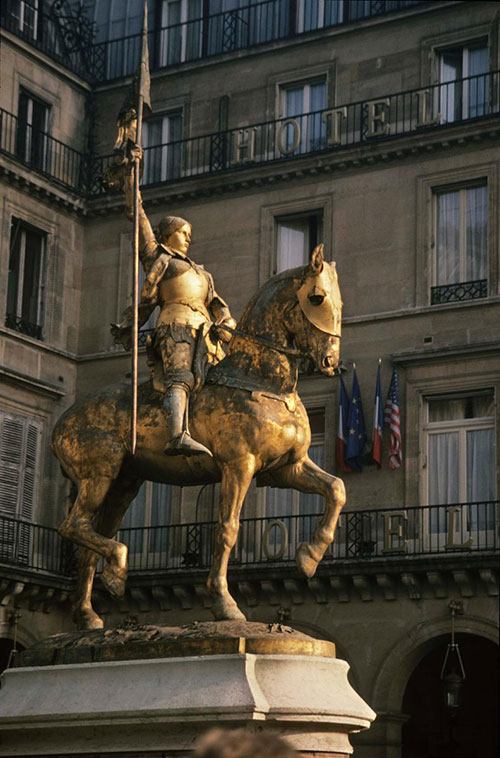 In honor of St. Joan's 600th Birthday
you are invited to attend an illustrated lecture
by Dr. Nora M. Heimann, Chair, Dept. of Art at CUA
5:15 on April 17 in McMahon 200
Cake will be served
Negotiating between the Mediterranean and Scandinavian Worlds: Gold Bracteates in the Early Medieval Period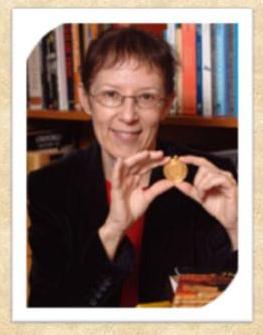 Center for Medieval & Byzantine Studies
Co-sponsored with the Department of Art
presents Professor Nancy L. Wicker
Thursday, February 2, 2012, 5:15pm Caldwell Hall, Happel Room