A Postmodern Meditation on the Five Proofs of God
An installation by Mark Cameron Boyd that addresses the quinque viae of Thomas Aquinas and the relationship of language to ways of "knowing." In Summa Theologica, Aquinas introduced "Five Ways" the existence of God could be proved. Twentieth-century scholars have refuted these "Proofs" with various arguments about Aquinas's concepts. Cameron Boyd uses both English translations of sections of Aquinas' text of his "Five Proofs," as well as text by his detractors, to introduce the idea of God's existence in the perfect site-specific location of Salve Regina Hall.
November 11-December 17, 2010
Opening Reception & Panel Discussion, November 11, 6-8 pm
Salve Regina Gallery, Department of Art
Panel discussion with Dr. Lisa Lipinski, curator, Mark Cameron Boyd, artist, and Patrick Beldio, MFA and PhD candidate, Religion and Culture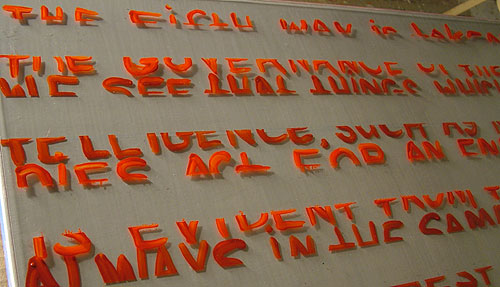 Crafting a Legacy: A Half Century of Art at CUA
October 3, 2010 - October 30, 2010
Opening Reception: Saturday, October 9, 2010; 4:00-6:00 pm
Gallery, Salve Regina Hall, The Catholic University of America
620 Michigan Ave, NE
Washington, DC 20064
Nine Artists:
Jeff Andrews
Alexander Giampetro
Georgia Mills Jessup
Patricia Malarcher
Willy
Tom Nakashima
Thomas Roorey
Nell Sonnemann
John Winslow
Curated by: Nora M. Heimann
This exhibition invited nine artists affiliated with the Art Department, professors and alumni from the second half of the twentieth century, to reflect on the legacy that they have inherited from their time at our university, and the legacy they have to leave behind for others. It combines a wide variety of artistic media, ranging from ceramics and textiles to paintings, prints and sculptures."

Images from the Exhibition: Crafting a Legacy: A Half Century of Art at CUA
CUA's Artistic Legacy on Display at Salve Regina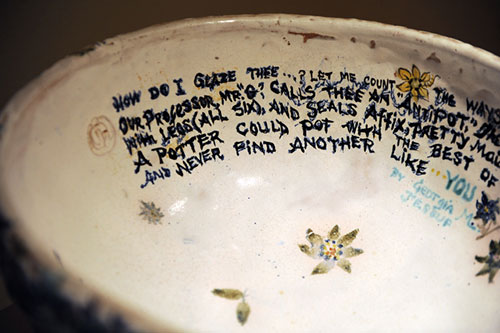 Mundanity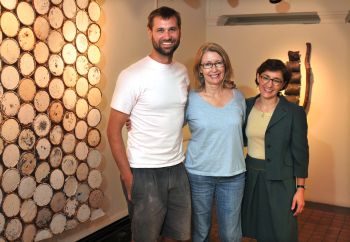 August 30, 2010 - September 24, 2010
Opening Reception: Tuesday, August 31, 2010; 6:00-8:00pm
Salve Regina Gallery, The Catholic University of America
Eight sculptors: Brent Crothers, Steven Dobbin, Mimi Frank, Breon Gilleran, Steve Jones, Ryan McKibbin, Betsy Packard, Megan Van Wagoner

Images from the Exhibition: Mundanity
New Art Exhibit Captures the Ordinary in Unique Ways 
Curated by: Beverly Ress

"Mundanity" looks at sculptural objects that seem familiar in an everyday, mundane sense. Some are made of throw-away materials - paint can lids, garden hoses or cast-off tools; others are representations of common objects, re-made in traditional sculptural materials - a plaster form with gold leaf, cast glass potatoes, a cast iron iron and candy, and wooden limbs.

All of the artists work with the history that objects accrue, uncovering meaning and delight in the quotidian moments and objects that make up our daily lives.
Transformability

New work by Candace Keegan
July 31 - August 13, 2010
Opening Reception: July 31, 6-8pm
Salve Regina Gallery, The Catholic University of America