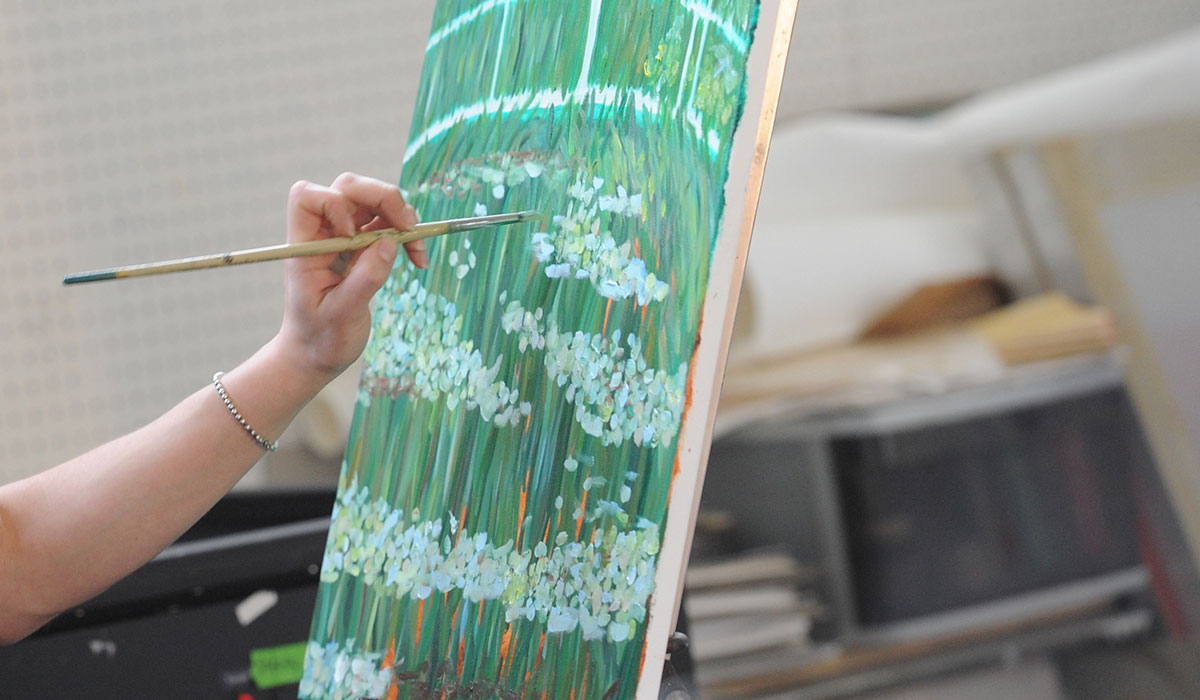 Leading graduate programs in art therapy require for admission the following:
Baccalaureate degree from an accredited US institution, preferably in Art or Psychology (often with a grade average of B or better)
A minimum of 18 credits hours in studio art
Academic course work and demonstrated proficiency in drawing, painting and figurative clay work
A minimum of 12 credit hours in psychology, including courses in abnormal psychology, developmental psychology (child or human development), and personality theory.
Most programs require a portfolio that includes figurative work in 2 and 3 dimensional media (submitted in the form of high quality digital photos on a CD or USB), and many recommend that the work reflect personal expression in a range of media and subject matter. In preparation for these admission requirements, we recommend that students prioritize creating figurative work in their own artistic practice. We also recommend two courses in each of the following categories:
Drawing and Composition: ART 201 or 207, 202 or 208, or 381
Painting: ART 205, 303, or 304
Ceramic Art: ART 471, 475, or 571
For advice in preparing your portfolio, you are welcome to contact Jonathan Monaghan (studio art advisor,
monaghanj@cua.edu
), or Peter Gribbin (administrative assistant,
gribbin@cua.edu
). We also recommend that you contact Dr. Marcie Goeke-Morey in the Department of Psychology (
goekemorey@cua.edu
) for advisement in selecting appropriate psychology courses in preparation for admission. To meet the psychology prerequisites, she recommends taking either:
PSY 380 (Abnormal Psychology) or PSY 382 (Abnormal Child Psychology)
PSY 379 (Life Span Development)
PSY 374 (Personality Psychology)
Other courses of interest might be PSY 371 (Sensation & Perception), PSY 373 (Cognitive & Behavior Therapy), PSY 381 (Clinical Psychology), or PSY 386 (Developmental Disabilities).
For further information, you also may wish to consult the following online resources:
American Medical Association
Allied Health Profession: Art Therapist

American Art Therapy Association
225 N. Fairfax St.
Alexandria, VA 22314
Phone: 1-888-290-0878
This site includes a list with contract information of all Approved Graduate Degree Programs that offer an MA, MS, or MEd in Art Therapy (or related degrees) in the US and Canada.
Art Therapy Credentials Board (ATCB), Inc.
The national credentialing body for professional art therapists in the U.S. Includes information about certification and ethics code.
3 Terrace Way, Ste B
Greensboro, NC 27403
1-877-213-2822
1-336-547-0017 Fax
Department of Psychology at CUA
"Double Majors and Minors in Other Disciplines: Planning to Apply to M.A. Programs in Art Therapy"