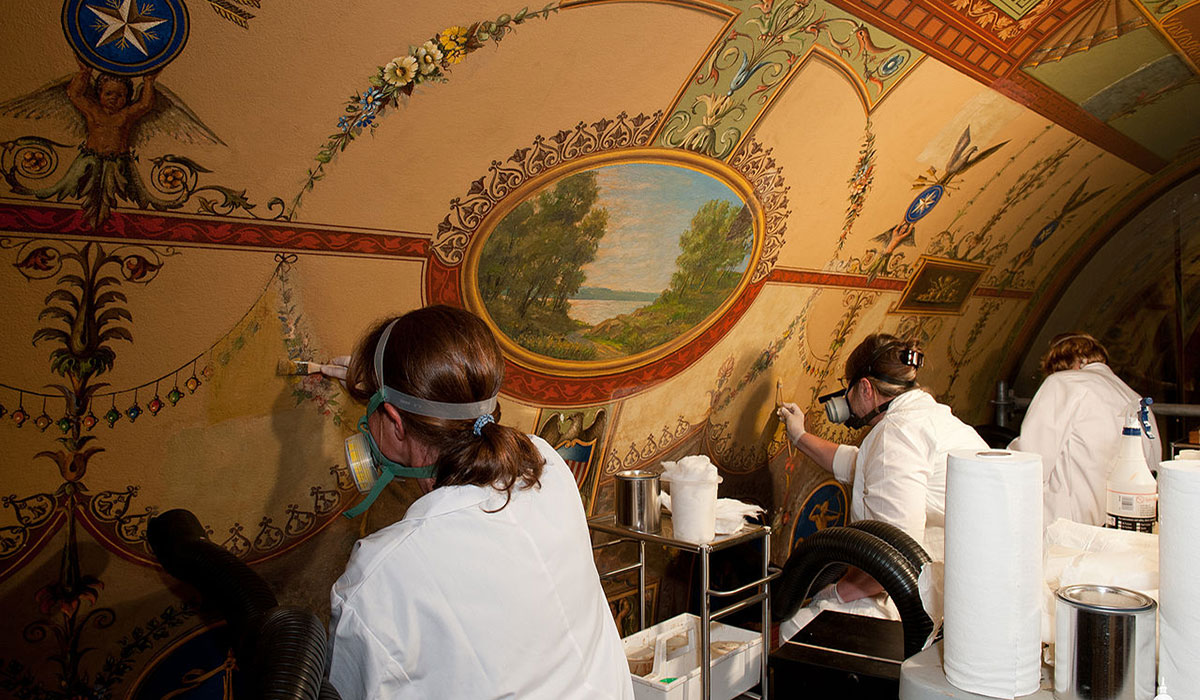 Leading graduate programs in art conservation typically require for admission the following:
Science (6 credits each)
      • General Chemistry
      • Organic Chemistry

Humanities (12 to 18 credits total)
      • Art History
      • Anthropology
      • Archaeology

Studio Art
      • Drawing
      • Painting
      • Photography
      • 3-D Design (ceramics, metalworking, sculpture, textile art)
Other classes recommended, but not always required, are biology, biochemistry, geology, material science, physics, mathematics, museum studies, drafting, and library science.
Upon application to graduate programs it is required that you present a portfolio that demonstrates your dexterity, knowledge of techniques, and understanding and affinity for art materials.
You will also be expected to have, in addition to your coursework, professional conservation experience. Experience can be gained through internship, volunteer, apprenticeship, or paid work in regional, institutional, or private conservation laboratories.
 
Conservation and Preservation Programs in the United States
| Institution | Location | Degree |
| --- | --- | --- |
| Buffalo State - State University of New York | Buffalo, NY | M.S., Art Conservation |
| Columbia University | New York, NY | M.S., Historic Preservation |
| Fleming College | Peterborough, ON | Certificate in Cultural Heritage Conservation and Management |
| NYU/IFA | New York, NY | M.A., Art History w/Certificate in Art Conservation |
| Queens University | Kingston, ON | M.A., Art Conservation |
| UCLA/Getty | Los Angeles, CA | M.A., Conservation of Archaeological and Ethnographic Materials |
| University of Arizona | Tucson, AZ | M.A./M.S. in Related Course of Study and/or Graduate Certificate in Heritage Conservation |
| University of Pennsylvania | Philadelphia, PA | M.S. in Historic Preservation w/Advanced Certificate in Architectural Conservation |
| University of Texas | Austin, TX | M.S. in Historic Preservation |
| Winterthur/ University of Delaware | Winterthur, DE | B.A*/M.S. in Art Conservation |
For advice in preparing your portfolio, you will work with your advisors and faculty.  We also recommend that you contact the Department of Chemistry for advisement in selecting appropriate chemistry courses in preparation for admission.