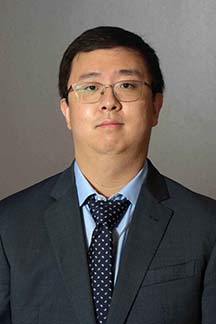 Department
Art
School
Rome School of Music, Drama, and Art
Expertise
Digital Art
Graphic Design
Character Design
Andrew Shim's life as an artist began with graduating from Maryland Institute College of Art (MICA) with a Bachelor of Fine Arts (BFA) degree. He moved to San Francisco after graduation, where he started his career as an assistant texture designer at Buh! Gaming while attending the Academy of Art University (AAU) as a grad student. He returned to Maryland after receiving a Master of Fine Arts (MFA) from AAU.
At the Catholic University of America, Shim is an adjunct professor of digital art and graphic design. He also continues to work at Buh! Gaming as a senior game artist. He has a broad range of knowledge in digital art, from 2D painting to 3D sculpting. Shim has developed his skills in Adobe Creative Suite and Autodesk 3D Modeling software through eight years of experience as a digital painter, concept designer, and cinematic artist.
His work mainly focuses on abstracts and fictional environments, prominent in novels, graphic novels, and video/VR adaptations. He has built a strong passion for the topic throughout his career, however, he incorporates a wide range of real-life references, including historical constructions and natural formations into both his studio and personal projects.
Shim always considers himself a forever student, he is always passionate about sharing his skills and experiences while gaining new ideas and wisdom from his students. After all, a teacher can learn from his students as they learn from you.