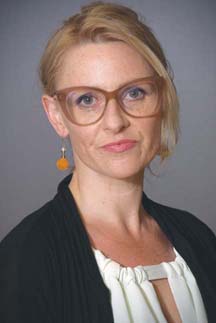 Department
Art
School
Rome School of Music, Drama, and Art
Expertise
Painting and Printmaking
Interdisciplinary and Performance Art
Multimedia Installation
Jenna North is a Washington D.C. based interdisciplinary artist who considers the vast majority of her work to function as social aesthetics. Her work is driven by a deep concern for water, in the form of chemical contamination, loss/drought, and climate change induced sea level rise, and the extinction of species as a result. She often collaborates with a wide range of scientists, designers and artists for public projects and her own studio practice. North's work currently toggles between functional eco-art, painting, photography, multimedia installation, and performance as both her hydrofracking obsessed Post-Apocalyptic Interior Decorator alter ego, Wendy Well, and a Senators wife from Kansas, Joan Dare. North is working on a full feature film about her alter egos.
Recent awards include a CNY Arts NYSCA grant for her "Submersive Gardening" project, a residency at the international residency Sculpture Space, and the National Art Gallery in Male', Maldives where she has an ongoing project to design an ambitious rooftop mural/garden/city park to create the illusion of the ocean rising and washing over a building. She has completed residencies at the Children's Museum in partnership with Sculpture Space in Utica, NY, Project Grant (social practice residency in Buffalo, NY), Headlands Center for the Arts in San Francisco, Montalvo, and Root Division. She has worked with the Art in Embassy program exhibited paintings in the US Embassy in Colombo, Sri Lanka. Selected solo shows include: "The Joan Dare Gallery" at International Art & Artists at Hillyer, and "Triplets; the Enigmatic Egos" at Honfleur Gallery in Washington, D.C., Art at the Palace (Colgate University in Hamilton, NY) "Paintings, Photography and Film Screening", "Drillshaft Paddywack" at The Other Side, Utica, NY. "Submersive Gardening" at the State University of New York, Morrisville, "Showroom/Post Apocalyptic Interior Decorating" at Mohawk Valley Community College, "Fracking Flow" at View, "Thermal Expansion" at the Red Poppy Art House, Micaela Gallery and "Dispersants" at the TransAmerica building in San Francisco, CA, and Penn State University.
North earned an M.F.A. in Painting from the San Francisco Art Institute. She completed her B.F.A. in Painting, with a minor in Printmaking, from the Kansas City Art Institute.