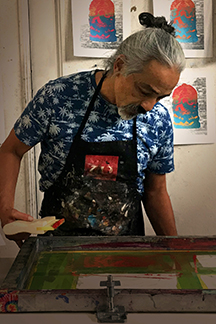 Department
Art
School
Rome School of Music, Drama, and Art
Expertise
Digital Art
Biography
Manuel Navarrete is a digital visual artist and master printmaker with over 20 years of experience in the field. Manuel was born in Peru, where he received his bachelor in Studio Arts and completed graduate studies in Printmaking at the Pontific Catholic University of Lima. He immigrated to the United States in the early 90's and continued his studies in digital media and design at the Corcoran College of Art and Design, in Washington DC, where he also was an adjunct lecturer from 2003 to 2012. In 2006, he joined the adjunct faculty of the Arts and Visual Technology Department of the George Mason University in Fairfax, VA. 
As an Adjunct Professor at the Catholic University of America, Manuel teaches courses on digital media applications for digital illustration and design, studio art printmaking and digital photography, since 2005.
As an artist and an instructor at the Department of Art of the Catholic University of America, Manuel is especially interested in fostering and promoting innovative integration of the methods and tools innate to current digital visual media formats, into the process and techniques of traditional studio arts. This integration, in his opinion, creates unique cross-platform opportunities to the young emerging artist-student to express and explore both, creative individual preferences, as well as to commit to collaborative efforts with their peers. Thus, providing the student with boundless expressive and referential resources to critically explore personal ideas, as well as to discuss and to exchange opinion on topics, and pre-existing content of current social and cultural relevance, through the art making process.
His professional interest and commitment to collaborative artistic endeavors within the local community, is well represented in numerous recent collective exhibitions and portfolios, and catalogued in several local permanent collections, DC Arts Center, the Library of Congress, The Corcoran Gallery of Art, Kathleen Ewing Gallery, District Fine Arts gallery, and the Civilian Arts Gallery, among others.